What does SketchUp 2021 have?
2020 has been a year. A global pandemic emerged and spread, shutting down our lives and forcing us to stay at home. Like many of you around the world, we used this time to tackle tasks we've been meaning to do for years. And boy did we learn the importance of laying a planned foundation to a complicated project. This year gave us the perspective and the opportunity to make SketchUp better at helping you start projects with a solid foundation, and the 2021 SketchUp updates do just that.  
Not only did we take time to assess how we approach projects, but we also put great consideration into the 'whys' of our decisions. It's vital to us that we are always aware of how our decisions today will be reflected tomorrow, on the axis, and beyond. Not only do we strive to build the best product for a robust workflow, but we want to celebrate everything that comes out of SketchUp – from design projects to community-building events and the great work our employees do.
That's why we are proud to introduce an architecturally-trained, Nigerian mother of twins to represent our 2021 product: Sumele Aruofor. She is our Strategic Enterprise Marketing Manager and knows a thing or two about the importance of starting a complicated project on a strong foundation. Whether it's building a complex marketing campaign, designing a structure with grace & humility, or raising two beautiful boys in the chaos that is 2020, she is the (always smiling) solid base that projects need to succeed in SketchUp. Say hi to Sumele when you arrive on the axis, and get to know her a little better on our blog.
Not only did we make some changes on the axis with our SketchUp 2021 updates, but if you didn't notice already, we are proudly sporting a brand new logo as part of SketchUp's latest version. After eight years of growth and evolution, a lot of thought went into this new mark – we wanted something simple, yet advanced that represents our brand foundation. The switch to blue ties us into the greater Trimble family, and the simplicity of the cube is built using advanced tools within SketchUp. That's right, you can finally model our logo in SketchUp. Get to know our new logos!
Speaking of getting a new look, we are feeling extra fresh with a new look and feel for our full suite of products.
Now that we've settled into our new on fleek exterior, it's time to dive under the hood.
With over 150,000 SketchUp subscribers modeling on the axes, we remain more committed than ever to delivering the high-quality, robust, yet affordable 3D tools you need to continue to thrive and innovate. SketchUp 2021 brings you a brand new, more climate-savvy way to start designs, better model organization, and smart, configurable objects for agile modeling.
We've built features in the latest SketchUp version that solidify the groundwork of your most complicated AEC projects. Now, let's get to know all the SketchUp 2021 updates.
Introducing PreDesign: a new way to start SketchUp
We know that as AEC professionals you're always striving for a reality where every addition to the built environment works in harmony with it's natural surroundings. This synergy requires a comprehensive understanding of a site's context before plans are even drawn.
That's why we created PreDesign. Our brand new climate research tool helps you to better understand the local environment surrounding your project before you dive into design in 3D.
"Although SketchUp is a fantastic way to develop ideas in 3D, we are continuously exploring new capabilities and saw tremendous value in making it easy for our users to include design research in their pre-design workflows," said Andrew Corney, PE, M.CIBSE, M.ASHRAE, product director at Trimble. "With PreDesign, we're providing designers with the insights they need to take a truly holistic approach to creating suitable design strategies and communicating value to their clients."
Pulling site-specific weather data, PreDesign connects the dots between climate and building type, suggesting appropriate architectural responses. Intuitive sun path diagrams in SketchUp's latest version show you the areas of your site that need to be shielded from overheating sun.
And it doesn't just flag the issues; PreDesign suggests effective glazing, shading, and top-lighting strategies for each face of your building. Talk about getting things right from the get-go utilizing new tools with these SketchUp updates.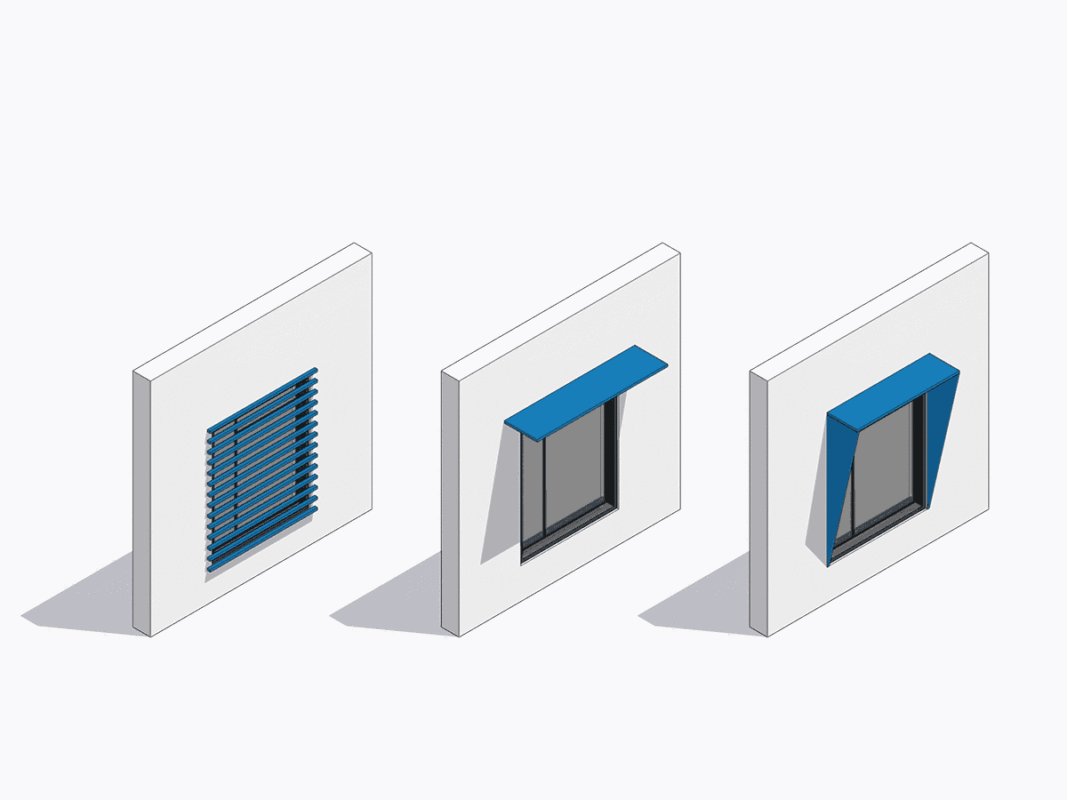 "PreDesign provides useful information that we need to position our projects for better design outcomes from the very start," said Adam Osterhoff, principal architect at Heartwood Studio. "Its compelling visual outputs and intelligent talking points also help us clearly communicate the value of our proposals to clients."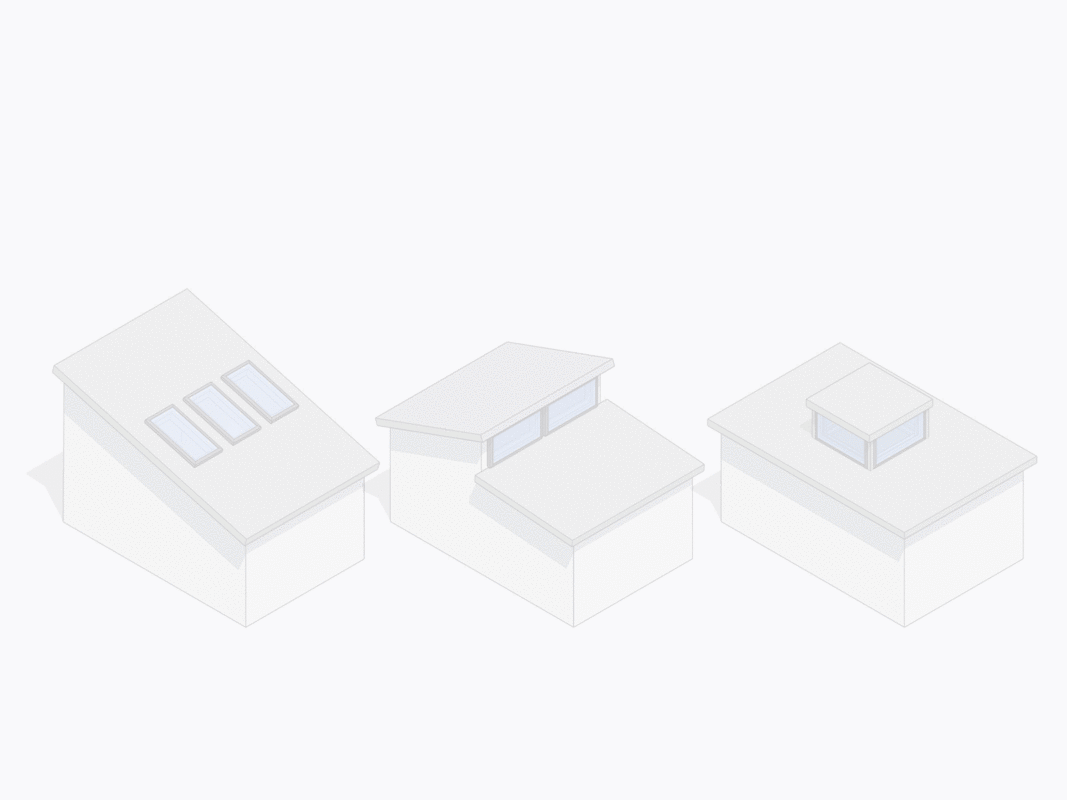 PreDesign is here, as part of the greater SketchUp update, to inspire and enhance your design narrative with meaningful climate observations while alleviating some of the heavy-lifting from your workflow to ensure you start each project in the right direction or at least the right orientation. By getting things right at the start, you'll avoid wasting your precious design time and resources, and avoid costly rework. The forecast is sunny with PreDesign, see for yourself.
Once you've ironed out the details for your site and designed an architecturally accurate model, the natural next step is to bring real-world site data into your model with Add Location. Bringing top quality, hi-res aerial imagery for accurate site placement, you can now provide contextual site data, taking your final product to the next level thanks to these SketchUp 2021 updates. Working with Add Location ensures you're designing with the most accurate information possible, setting you up for design success
Improve your tag management in SketchUp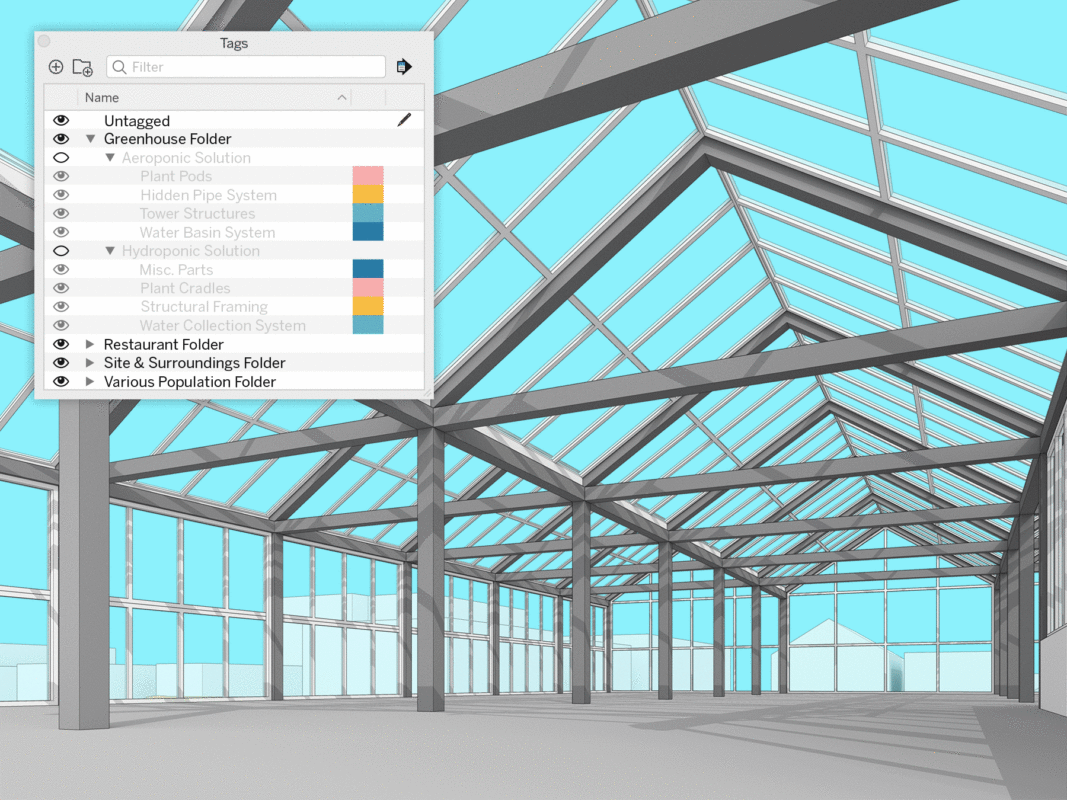 Just like you wouldn't stock your spice rack without labeling all the jars, you don't want to kick off your design without a clear and organized model structure. Our latest improvements to tags help you to do just that.
We know managing long lists of tags and scenes can be cumbersome, particularly with complex models that you're setting up for 2D documentation in LayOut. To lighten this load, in SketchUp's latest version, Tag Folders (in SketchUp and LayOut) allow you to organize your tags for quicker access and bulk visibility control within SketchUp 2021 and LayOut updates.
Whether you use tags to set up models for design scenarios, documentation, reporting, or visualization, we think you'll find it a lot easier to locate and work with tags when you start grouping them in folders. What's more, you can control the visibility of all tags in a folder at once, and you can also select multiple tags or folders at once to turn on and off huge chunks of your model.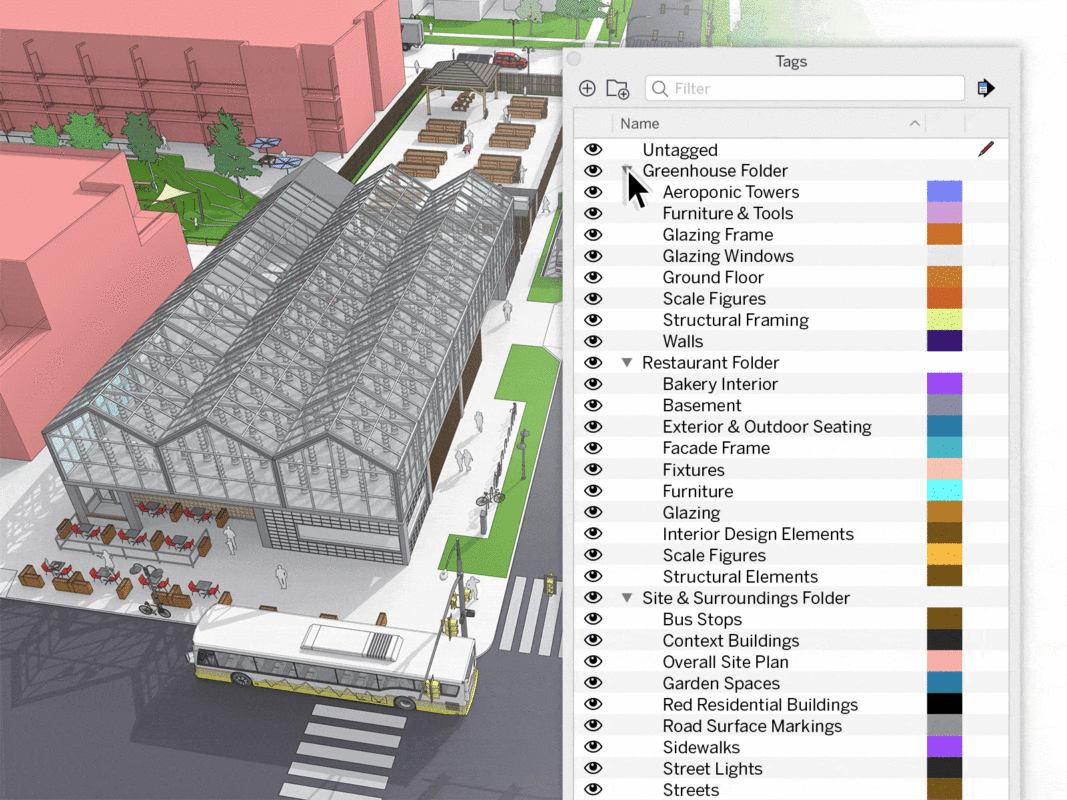 We didn't stop there. Filtering tags is finally possible in SketchUp! A long-time feature request, we're happy to say that you can now quickly zero in on a specific tag as you are managing scene visibility or line styling with the latest updates in the 2021 SketchUp version. And if your tags are organized with a naming convention, you can quickly filter on your prefixes to select similar tags and stash them in a folder.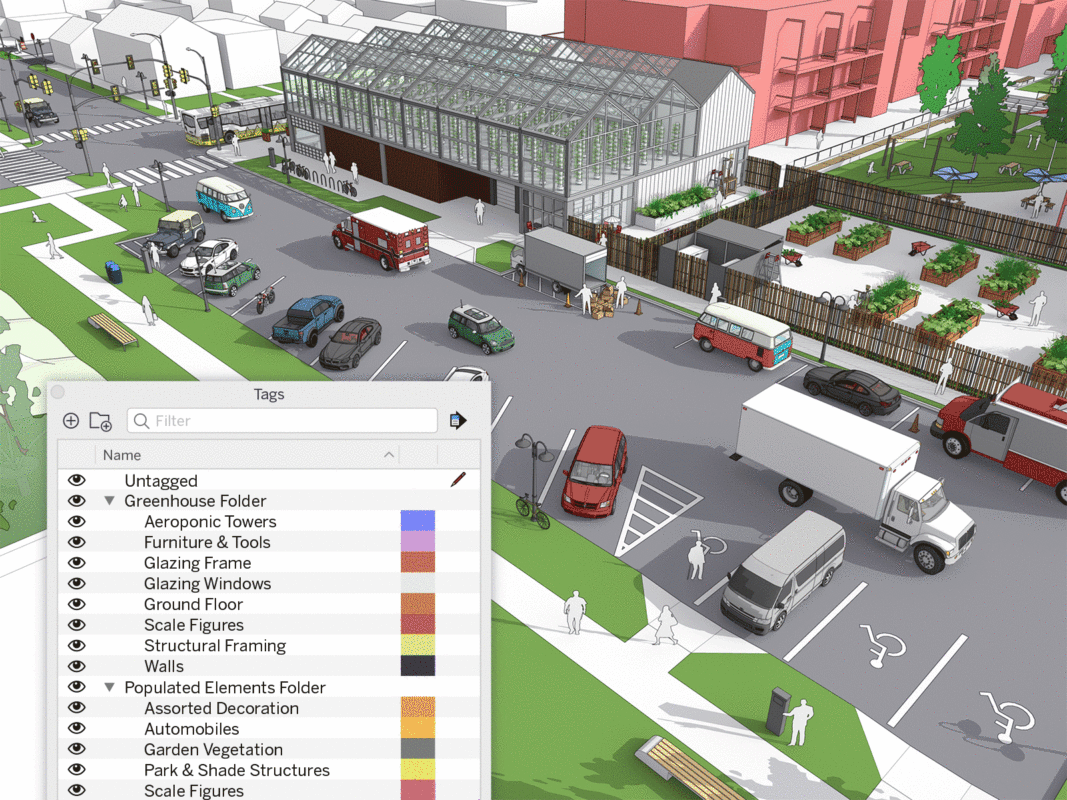 Earlier in the year, we introduced a slew of features that further focused on increasing control over the visibility of your Scenes. With the Scenes panel, we enabled the ability to select and save hidden objects on a scene-by-scene basis. Thanks to this update, you can save the (in)visibility state of hidden objects and section planes providing you greater control over your model's visibility per scene. To top it all off, we made hidden objects editable within the 2021 SketchUp updates, so you can make precise edits with ease. Talk about taking control of the reigns in Scenes.
To ensure that workflow is operating at peak performance, we also brought some useful features to play in the latest SketchUp version with linear inference toggles for the Line tool. The ability to toggle linear inferencing on and off facilitates better control over your line drawing so you can draw edges without being snapped to an inference. We also introduced a native 'Weld Edges' command to let you join edges and arcs into a single polyline without installing an extension.
Ultimately, we want you cruising through your workflow, with utmost control and agility. Which brings us to our next exciting announcement for SketchUp's 2021 updates…
Introducing Live Components in SketchUp
Do you dream of building models that are robust and flexible enough to react to design changes? We do! There's no doubt that a successful model is one that can easily accommodate iterations and allow for agile change. In SketchUp 2021, we are introducing parametric objects that do just this; we call them Live Components.
Programmed with modeling logic that controls their geometry, Live Components are configurable objects that re-draw themselves in real-time. What does this actually mean? Using Live Components with the 2021 SketchUp update allows for greater project scalability and benefits a wide range of use cases including architectural configuration, interior design, as-built modeling, space planning, and rapid iterations of concept or aesthetic.
Live Components can be found in 3D Warehouse and are now available for you to download and configure right in SketchUp with SketchUp's latest version. For detailed steps on finding Live Components in 3D Warehouse from inside the SketchUp application, click here.
Once you've selected a Live Component, you can insert it directly into your model where you can control the component's parameters in the 'Configure Live Component' dialog. As you adjust parameters, the Live Component will redraw itself to fit your needs. Check out our Skill Builder showing you all the steps you need to bring Live Components into your workflow.
Let SketchUp's new Live Components do some heavy lifting for you: customize dimensions and sizes for repeated object use; quickly add rich context and make adjustments in real-time to produce more detailed designs in less time; or rapidly iterate large sets of components all at once as project requirements change.
Behind the scenes, Live Components are driven by a new computational design platform called Materia. Going forward, Materia and Live Components will unlock whole new ways of working in SketchUp and across Trimble products. This launch is only just the beginning for Live Components. We are still actively working on improving their performance and usability, as well as developing more objects for you to use in modeling.
A new way to launch work-in-progress features with the latest SketchUp version
We are launching Live Components early as part of a new program called SketchUp Labs, so that we can incorporate your feedback into our development process. We hope you'll join us in our forums for discussions on the future direction of Live Components, or provide feedback if you encounter issues.
Here's to a solid start for 2021 with new SketchUp updates.
There's no doubt that 2020 has had a profound impact on the world and will continue to shape who we are, and what we do going forward. It's important to us that we learn from these experiences and continue to build a strong foundation – both on and off the axis – as we look to the future.
We want you to feel our commitment to you as a community and to know the value of your input in all that we do. Our 2021 SketchUp update and release represents as much of where we've come from, as where we are going. We are always thrilled to provide features that will compliment your work and maybe even make work a little fun. So, model away, and don't stop telling us how we can improve for you.
Are you a visual person, like we are? Join us on Thursday, November 19th, 2020 for a live demo of the new tools and SketchUp's latest version features in a special 2021 Release webinar!
Keep creating, operating with kindness, and building the world you want to live in. Looking forward into to 2021, SketchUp updates and all: May you model informed, design delightfully, and build better buildings.
Source: SketchUp