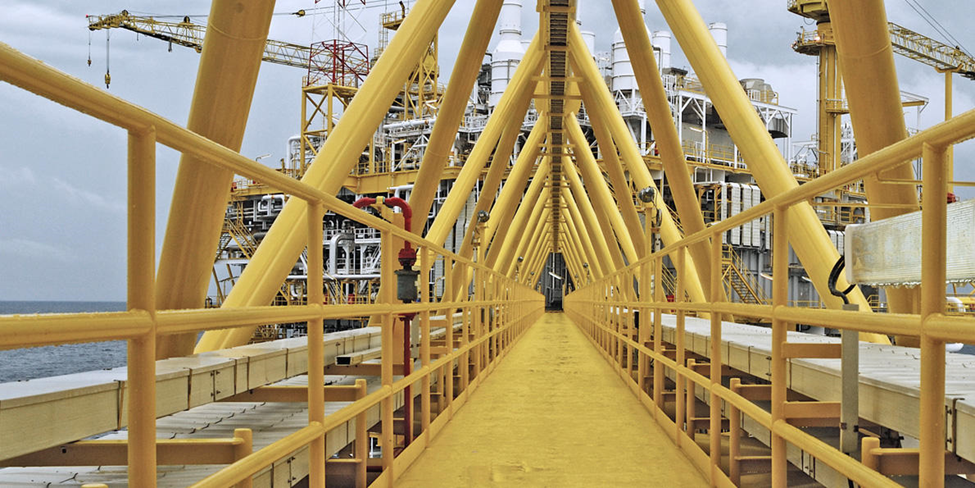 Save time and money with faster offshore structures design and detailing, accurate drawings, avoiding clashes on assembly and automation.
With Tekla software, you can boost productivity through shorter modeling times in offshore structures design and higher automation of fabrication. You can interface the model to machinery and project management. Your Tekla models represent the true, detailed, as-built offshore structure.
The software handles all structures, even the largest ones. Everything in an offshore project fits into a Tekla model: 4D visualization, pipes, welds and bolts, weight of the structure and the position of the center of gravity, sustainability and eventual decommissioning.
Tekla lets you identify and correct possible conflicts with the process equipment, cables and access routes. Fixing conflicts already in the design phase saves time and resources in the construction phase.
Key benefits
Oversee the whole project.
Model all structures with increased productivity.
Avoid errors in fabrication and construction planning
Save time and waste less material.
Integrate design to fabrication process.
Include welding details in the model.
Lifecycle
Tekla's highly detailed structural models give offshore builders the ability to oversee the whole project from initial concept studies, including 4D visualization, to the design of structures, safety systems and sustainability, commissioning and modifications.
Automatic Data to CNC
Direct integration with computer numeric controlled (CNC) machines that support the DSTV format, as well as tube profiling machines from manufacturers like HGG, Vernon Tool, and others.
Automatic Drawings & Reports
All required engineering, fabrication, and erection (piece mark) drawings and reports can be automatically generated from the accurately detailed 3D model. Drawings are associated to the model, so any changes made to the model automatically reflect in the output. Transfer data via reports directly from the model to estimating, scheduling, procurement, and production management.
Automatic Numbering
Customizable piece marking of parts and assemblies allowing for unique, identical, or hybrid numbering systems which enable efficient traceability throughout fabrication and construction.
Advanced Offshore Modeling
Model and detail structural shapes, profiles, and materials, including tubular and elliptical sections, as well as individual welds and bolts. Plate girders, complex ring plates, node connections, and long seam rotations, can easily be modeled to represent the as-built condition of the structure. Create welded beam to beam connections according to offshore requirements including complex weld preparations, rat holes & scallops.
Quality Assurance & Control
3D environment ensures error-free collaboration during the fabrication and erection phases. Detailed model represents the 'as-built' condition of the structure – if the structure fits on screen, then it will fit on-site as well. Weld tracking and traceability can be gathered and recorded through a tablet device and linked directly back into the model allowing for visual representation of status and progress updates.
Interoperability
Model integration is seamless with a variety of offshore industry-standard packages. Tekla Structures supports all industry-standard file formats, including IFC, CIS/2, DWG, DXF and DGN. Publish models to Trimble Connect for enhanced project collaboration and communication.
Clash Detection
Automate clash checking and expose conflicts within the model before it's too late. Costly errors are minimized through superior change management and revision control.
Components & Connections
Create a model representing the true, detailed, as-built structure using an extensive library of standard connections or custom components. Automated model connection and detailing is enabled by customizable rules.
Interoperability with industry partners
We have an open approach to modelling, which means that the software integrates smoothly with other solutions, technologies and machinery.
Tekla links to the major offshore design software systems for integrated analysis and design workflow. Automation, faster design and detailing and accurate drawings help you to save time and money. 
source: trimble.blog