PRODUCT DESCRIPTION

V-Ray for SketchUp is an integral rendering solution for SketchUp, enabling designers to experience their designs in real-time as
they model and take them to photorealism without leaving SketchUp. Preferred by many 3D artists, it is used by 95% of the top
AEC firms worldwide and in countless films.
Unlike competitive products, V-Ray can use models from any source (like third party model companies), manage enormous
complexity, illuminate with accuracy, and take users images to the highest quality. In addition V-Ray provides Academy Award
winning quality and finishing tools that save from needing to use an additional post-processing program.
WHAT IT'S USED FOR
▪ Architecture
▪ Interior design
▪ Retail design
▪ Woodwork/ Furniture design
KEY BENEFITS
Bringing designs to life.
Real-time visualization.
Photoreal rendering.
Tools beyond rendering.
Easy to get started.
Using existing V-Ray work.
Handles the toughest scenes.
More detailed V-Ray 5 for SketchUp, Update 1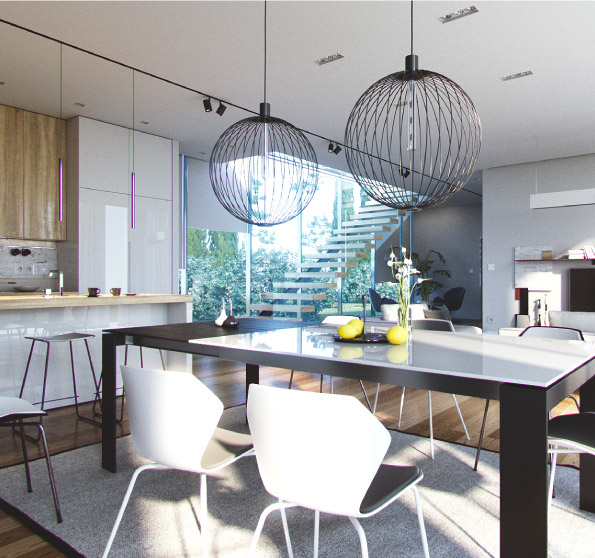 INTEROPERABILITY WITH OTHER V-RAY TOOLS

▪ Works seamlessly with V-Ray for Max, V-Ray for Rhino and V-Ray for Revit.
▪ Supports VRscans which allows for the most physically accurate materials to be used.
▪ Supports many tools and provides optimized support for numerous third-party plugins.
▪ Chaos Cloud gives one-click access to cloud rendering directly from V-Ray's UI.
FEATURES LIST

Rendering — V-Ray Vision provides real-time rendering of users models. V-Ray's powerful CPU and GPU rendering is built to handle the toughest projects and demands of high-end production.
▪ V-Ray Vision
▪ CPU rendering
▪ GPU rendering
▪ Denoising
▪ Interactive rendering

More detailed V-Ray 5 for SketchUp, Update 1

WHAT'S NEW IN V-RAY 5 FOR SKETCHUP

From real-time to photoreal rendering.
Real-time comes to V-Ray. V-Ray 5 for SketchUp gives users the creative freedom to refine, iterate designs in real-time and create beautiful scenes easily and more efficiently. It brings real-time visualization, ability to light scenes automatically and powerful post-processing features that save time and let users go beyond just rendering.

WHY CHOOSE V-RAY 5 FOR SKETCHUP?

V-Ray 5 helps artists and designers to:
▪ Visualize designs in real real-time
▪ Explore endless lighting variations automatically with the Light Gen
▪ Create multiple lighting scenarios from a single render without re-rendering
▪ Post-process renders directly in V-Ray
▪ Make materials look more realistic with new randomness controls
▪ Save time with the improved and more-efficient material workflow
▪ Add more variety to your scenes through new material layers
▪ Extend magic hour with the new sun and sky system