KONIA Co., Ltd. was established and put into operation in Ho Chi Minh City on May 16, 2005 and expanded a representative office in Hanoi and Cambodia in 2019.
Over 18 years of development, KONIA Co., Ltd. has grasped market trends and local understanding, deployed many activities and services, provided many valuable products from world famous brands to serving Building and Construction Customers, typically Keystone, Furutec, Cummins, Trox Technik, Lockly, Daikin, in 2012 promoting the development of Software department with Autodesk products, in 2018 authorized to distribute Trimble SketchUp, in 2019 was the sole-reseller of Trimble Tekla and recently, KONIA added BricsCAD and Genetec to its portfolio.
Business activities of KONIA Co., Ltd. maintain positive and continuous growth. Extensive network of activities, value-added products and dedicated and efficient support services, recognized by Partners, Customers and many users. Having those achievements, the credit first of all belongs to those who paved the way, the CEO as well as of all members of the company through years.
On this occasion, the Young Business People Association of Ho Chi Minh City (YBA) also sent congratulatory letters and acknowledged the contributions of KONIA Co., Ltd. to YBA in particular and to the market and community in general.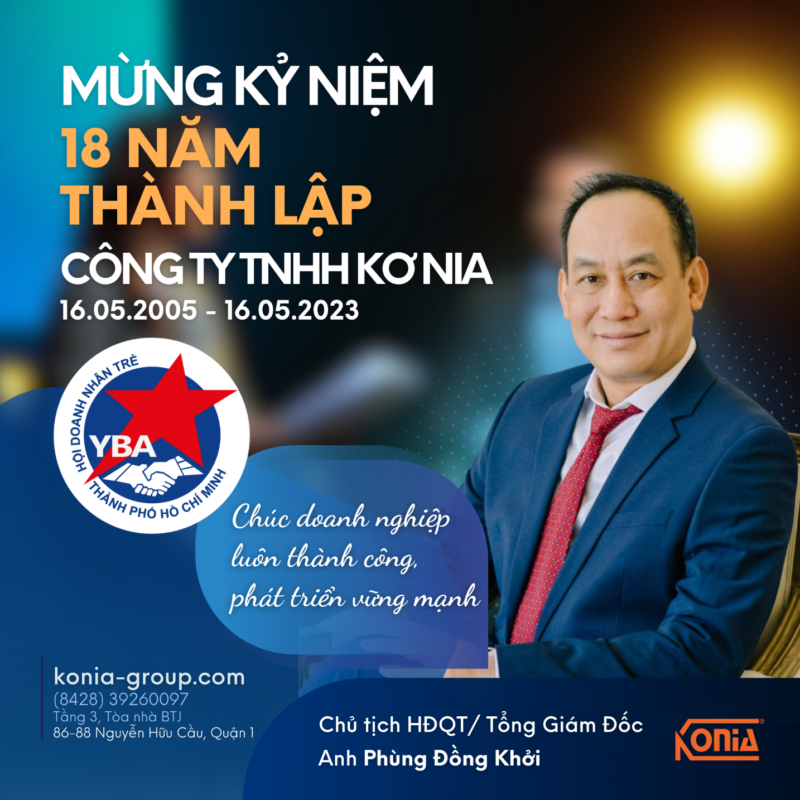 In the coming time, the Board of Directors of KONIA Co., Ltd. wishes to continue promoting internal resources, constantly creating and innovating in business – cooperation activities, making KONIA a prestigious brand in the field of trading – services for the Building & Construction industry.
May KONIA Co., Ltd. to constantly develop, be sustainable and reach out!