3D modeling has many benefits; it gives users a platform to explore ideas, express their creativity, and experience designs before they're built in the real world. However, the ability to add an element of realism, whether that be reflections, lighting, or materials, can take a design concept to the next level. I've been 3D modeling for over 20 years and have worked at SketchUp as a 3D modeling educator and video creator for seven years. Known to some as Aaron and others as "that SketchUp guy with the funny shirts," my goal is to give architects and designers the tools to streamline their workflow. When it comes to rendering software, I always look for platforms that are straightforward and intuitive – and Enscape is one of my favorites to use when rendering SketchUp models. Here are the top five reasons why I enjoy Enscape.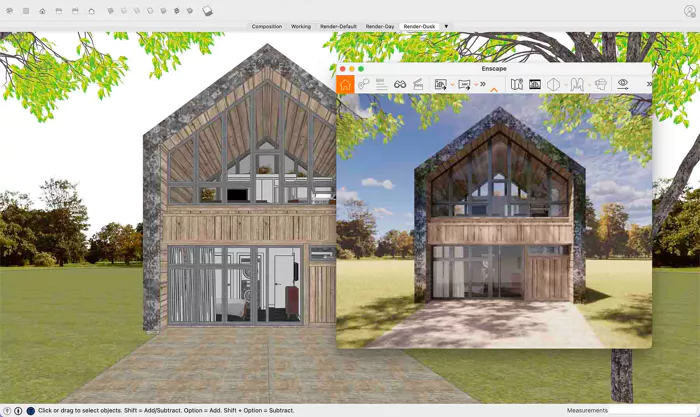 1. SketchUp integration
Enscape feels like it is part of SketchUp. It technically runs inside SketchUp as an extension, but as a user, I just see a set of tools I can click on while I am modeling in SketchUp. Nothing ruins my modeling flow like having to leave SketchUp. It can throw off your creativity to save your model, open another software, import your model, and then hit the render button. It is usually at this point I realize that I forgot some noticeable bit of geometry and have to go back to SketchUp to start the process again. With Enscape running in a window and actively updating my render in real time as I model, I never have to leave the modeling fast lane.
2. Integrated material editing
Another issue I have run into is the need to wipe out all of my SketchUp materials so that I can replace them with materials with render attributes – this re-work has always been frustrating. With Enscape's Material Editor window in SketchUp, I can not only choose to import and apply their render-ready materials, but I can make my own. Enscape allows me to add attributes to the materials already in my model to set the bump map, reflectivity, or transparency levels of the materials I have already applied to my model. No wiping out SketchUp materials, no reapplying render materials!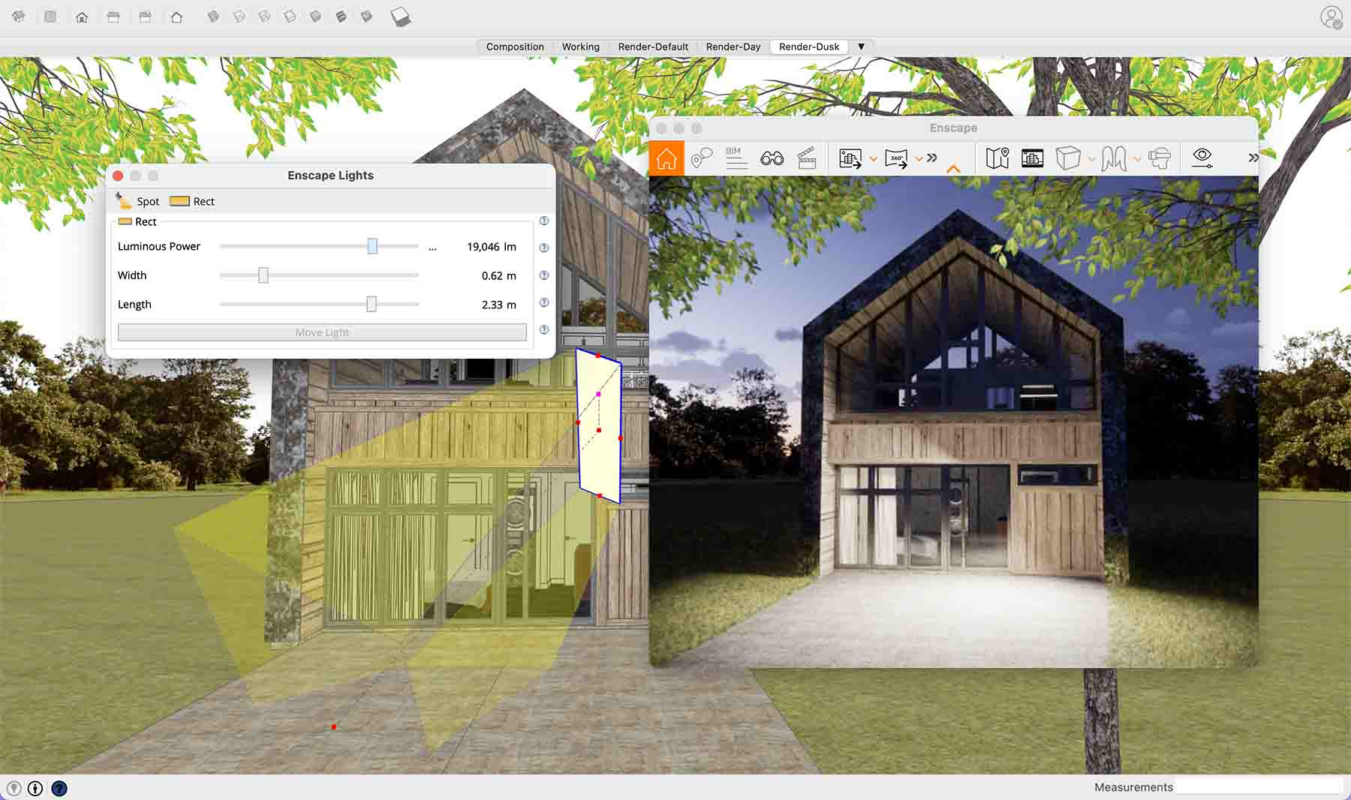 3. Easy light placement
One of the things that I enjoy about modeling in SketchUp is the simplicity of lighting. There is a sun and a simple modeling light, and that is it! No need to add additional light sources. If my model requires lights, I'd like to keep the process of defining render lights as simple as possible; for example, adding a light in SketchUp using the Enscape toolbar works as I expect it to – almost like a native SketchUp tool. You can place, size, and aim a light with a few clicks. Plus, I get to see the effect of adding these lights in the render window as I add them.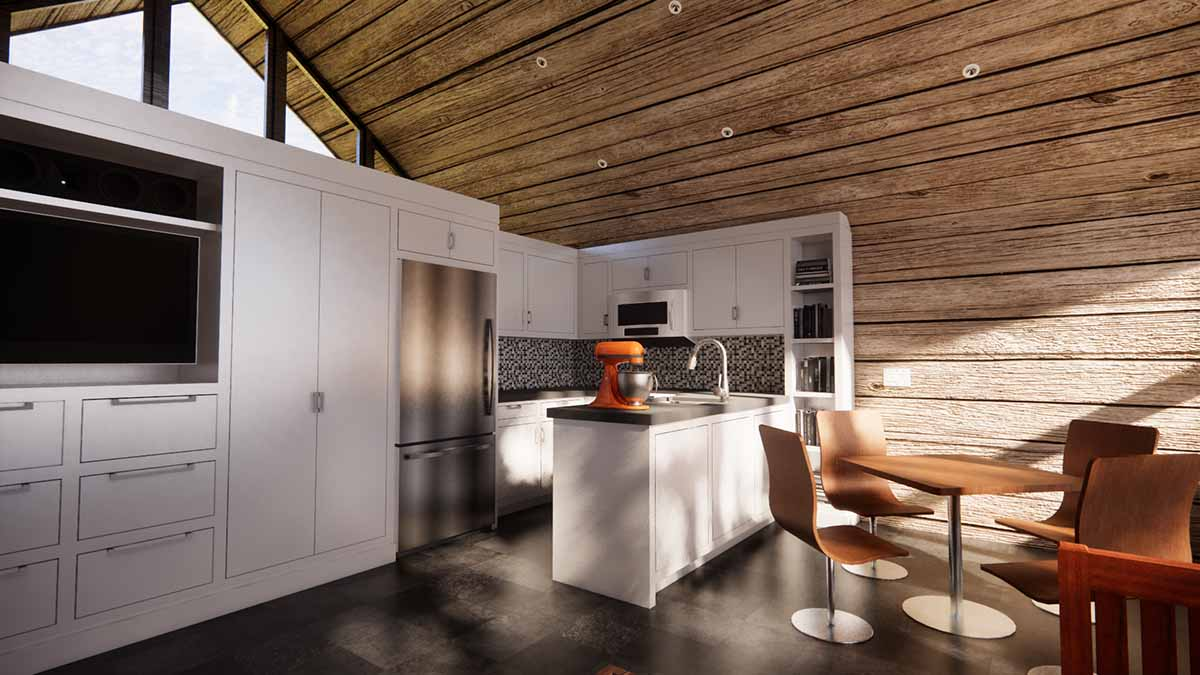 4. Simple navigation
Simplicity is vital to my modeling workflow. The way I can orbit around a model in SketchUp is the simplest solution to 3D navigation ever – and I tend to whine like a small child when I have to use any other system of movement. However, I'm impressed with the movement rules used by computer games (WASD and the mouse to aim the camera), which is the same control scheme that Enscape uses.
It makes sense that Enscape would not use the same navigation paradigm as SketchUp. In SketchUp, you move around a model as you create it; Enscape is geared toward moving through and experiencing the model – moving through my rendered model using the keys and mouse seems natural. Not only is "walking" through an Enscape model intuitive, but it's fun. We are talking about production software here, but I cannot help but enjoy the process of running my camera through the building I have modeled and strafing around corners. It's like moving through a video game!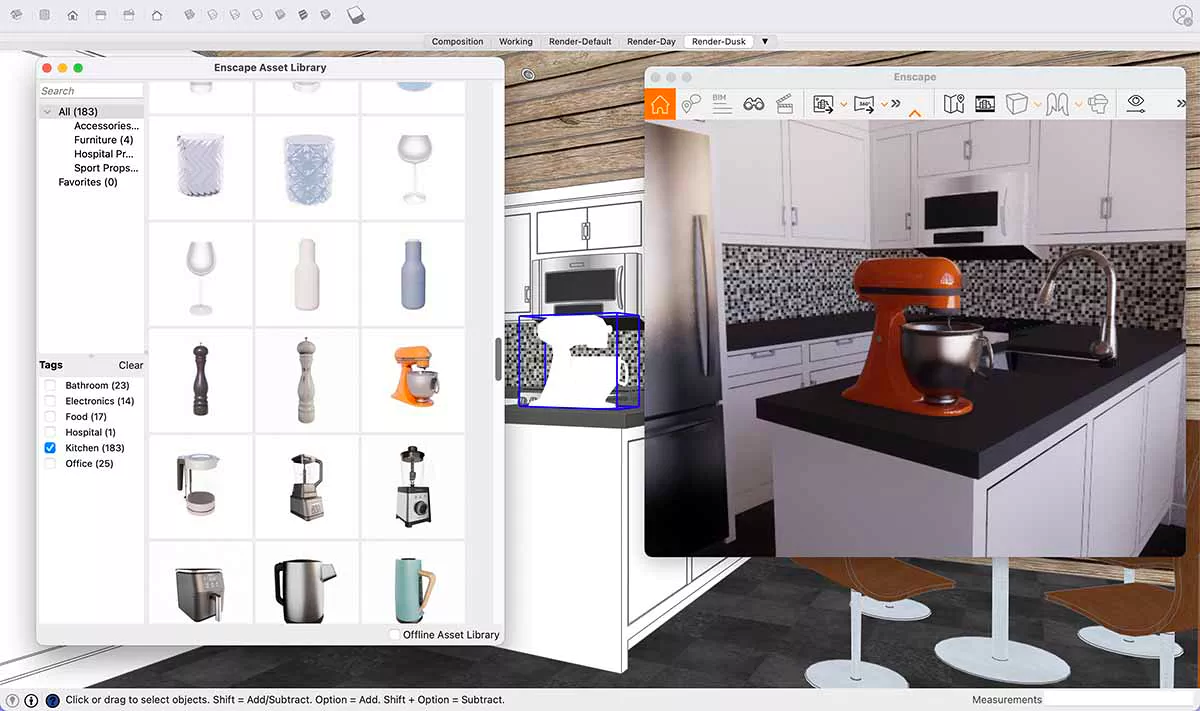 5. Asset library
As I said earlier, I am, at my core, a 3D modeler. I love sitting down and creating SketchUp models, but this does not mean I want to create a 3D version of every item I need in my model. Enter Enscape's render-ready model library. The simple drag-and-drop interface allows me to grab pre-made SketchUp models that appear in my project as lightweight models but show up in my render as realistically rendered items. While I sometimes expend the energy to create 3D elements (like table settings, appliances, or exterior entourage), being able to drop items into the model is a great feature and a huge time saver. When it comes to choosing rendering software for SketchUp, it's crucial to pick the right one for your needs. Enscape makes rendering less daunting, and they just released their Enscape for Mac version. Mac users, you can now take advantage of this streamlined software workflow. If you're interested in exploring SketchUp, try the free 30-day trial.